Renton Car or Truck Impounding
Vehicle impounding may be required due to various reasons such as parking violations or abandonment of stolen vehicles. If someone has parked a vehicle on your private property without permission, the vehicle may be impounded. In instances where a vehicle is parked on a public street or sidewalk blocking your property, you may need to call the local police for vehicle impounding in Renton.
If there is a necessity for car or truck impounding in Renton, WA, ABC Towing is an insured and licensed company capable of handling the job with efficiency. Our drivers are
Experienced
Capable of driving through all weather
Trained and certified
We are available 24/7 all 365 days of the year to perform emergency roadside services.
Renton Vehicle Impounding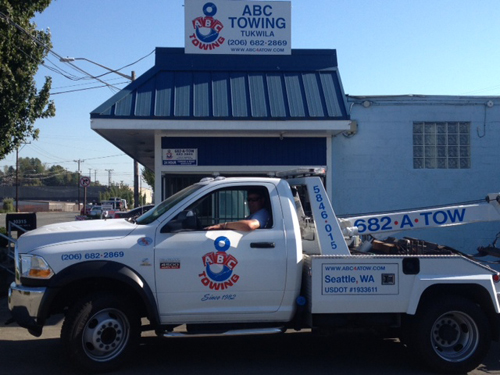 Impounds for abandoned vehicles may be required under circumstances when a stolen vehicle is abandoned on private property or the abandoned vehicle is in badly damaged condition. In those cases:
We have a fleet of tow trucks for car or truck impounding
We can tow any vehicle from motorcycles, family cars, buses or vans
We can store impounded vehicles safely
Vehicle impounding may require the involvement of local law enforcement agency in certain cases but private property owners may initiate car or truck impounding related to parking problems on their private property.
If you require impounds for abandoned vehicles or vehicle impounding for parking violations, contact our friendly, trained operations staff to initiate the process. Our skilled vehicle impounding operators will take care of the rest.
Renton Impounds for Abandoned Vehicles
We have been offering towing services since 1982. Our family owned and operated business is known for promptness, excellent service, and professionalism. You can depend on us if you need impounds for abandoned vehicles or you are facing inconvenience by vehicles:
Parked in handicap zones
Illegally parked in your private property
Blocking your privately-owned restaurant/business parking lots
Contact us when you need r any vehicle impounding or towing. We respond quickly and tow away impounded vehicles to storage in our storage lot for up to 30 days. If the need arises, we work with local police for impounds for abandoned vehicles and other car or truck impounding situations.
If you are wondering, who bears the impounded car cost? It is the registered owner who pays for the charges at the time when the car is picked up.
Call ABC Towing at (206) 457-2530 for car or truck impounding in Renton. We provide all vehicle impounding services for different violations, including impounds for abandoned vehicles.